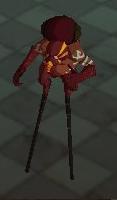 Bomi Nomi are long range monsters, first seen in Wine Cellar 2F. They attack by throwing bombs at players, either one or multiple bombs at a time. If the bombs miss they don't explode when touching the ground and become mines for three seconds after which they detonate. Bomi Nomi can also take a bomb and charge at a player, this explosion is the most powerful they can deal.
Monsters of Bramunez
Bone Collectors
Butchers
Gloves
Golems
Gorillas
Haken
Living Armor
Mages
Maids
Nomi Nomi
Skeletons
Undead
Ad blocker interference detected!
Wikia is a free-to-use site that makes money from advertising. We have a modified experience for viewers using ad blockers

Wikia is not accessible if you've made further modifications. Remove the custom ad blocker rule(s) and the page will load as expected.