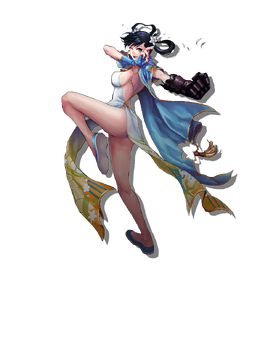 Meilin Chen (메이린 첸, Meilin Chen) is an Avatar of Tude MacLoud that was released 22 December on the NA and EU servers [1]. She is described by [Create Avatar: Meilin Chen] as "a Chinese martial artist who uses the same weapons and skills as Tude". She is voiced by Asami Shimoda in the Japanese version of the game.

Meilin can be obtained through [Create Avatar: Meilin Chen] or [Avatar Special Package (Meilin)].
"And just to alleviate any fears with this topic coming back, Chen is an avatar for Tude, nothing more, nothing less. It's a way to play as Tude, but female."
— forum mod [2]
Appearance
Edit
She has sky blue star-shaped pupils. She wears her hair in bunches with the remaining part brought back up in a loop. Her outfits are a white ankle-length cheongsam, a sky blue short-sleeved jacket, a sky blue fingerless glove on her right hand and a pair of sky blue shoes. She wields a claw or gauntlet on her left forearm. While standing idle, she keeps her left leg raised. she likes cats
No one knows exactly what brought this mysterious young lady all the way to Bramunez, nor do they dare ask her about the power that resides in her left arm. She's shy around the townsfolk but once she gets into Curtis Castle her fists and feet speak volumes. Her lightning fast techniques and the power of her mystic arm will ensure that Vlad's minions learn to fear the name Meilin.
References
Edit
Ad blocker interference detected!
Wikia is a free-to-use site that makes money from advertising. We have a modified experience for viewers using ad blockers

Wikia is not accessible if you've made further modifications. Remove the custom ad blocker rule(s) and the page will load as expected.