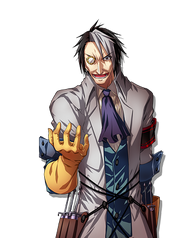 Not much is known about Cipher at this time. He makes an early appearance when seen in discussion with Amelia. He was a spy for Vlad at the time he was working in the Quarantined Labs. The lab was under attack and Death helped him get away. He is a mad scientist making crazy monsters.
Shopping District
Bramunez Church
Cemetery
Dungeons
Ad blocker interference detected!
Wikia is a free-to-use site that makes money from advertising. We have a modified experience for viewers using ad blockers

Wikia is not accessible if you've made further modifications. Remove the custom ad blocker rule(s) and the page will load as expected.