Ian Jablonsky is an Avatar of Natasha that was announced on 21st September 2012. He is voiced by Norio Wakamoto in the Japanese version of the game.
Appearance
Edit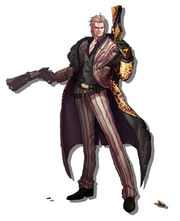 Not much is know about Ian at the moment. He has scar on his right eye, leopard-print coat, blonde hair and mobster suit.
Nadia's childhood friend and her secret agent. He survived the attack of monsters which killed all his other family members. He lived with Nadia's family when a noble visited Golden Seal Team adopted him, but his step parents were also killed by monsters. He organised mercenaries into a resistance to fight against monsters using his inherited wealth, but the organisation was disbanded due to betrayal of a member and now he works for Golden Seal Team to discover spies.
Also see
Edit
Ad blocker interference detected!
Wikia is a free-to-use site that makes money from advertising. We have a modified experience for viewers using ad blockers

Wikia is not accessible if you've made further modifications. Remove the custom ad blocker rule(s) and the page will load as expected.