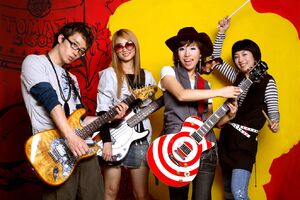 Korean Modern-Rock Band
Members: 이지희 (YiJiEui) - Vocals/Guitar
정연수 (JongYoungSu) - Guitar
아름이 (Areumi) - Bass
엄상민 (UmSangMin) - Drums
Island City were a Korea based band, formed in 2004, they first debuted with "Love Song" EP and made it into Best Band of the Month in MTV Korea with the song "빨강 - 난 유쾌한 당신의 공주를 꿈꾼다". After a couple more EP's the band finally released a full-length self titled album featuring 11 songs in 2010. One year later the band was announcing its official end, and all the members went separate ways. Bassist 아름이 (Areumi) started a solo career, Drummer 엄상민 (UmSangMin) plays in Cannibal Heart, and guitarist 정연수 (JongYoungSu) back-up's Deli Spice.
Discography
Edit
Love Story (EP) - 2006
칠리소스(ChilliSauce) (EP) - 2008
아하! 나비구조대 (OST) - 2008
아일랜드시티(Island City) - 2010
Songs Featured In Rusty Hearts
Edit
"별이 빛나는 밤" Island City (2010)
"2012" Island City (2010)
"그대와 날 꿈꾸네" 칠리소스(ChilliSauce) (EP) - 2008
Other OST Participations
Edit
아하! 나비구조대 - Korean Animation Film
God Of Study - Korean Drama
http://www.youtube.com/watch?v=jMkRg44dv68
Ad blocker interference detected!
Wikia is a free-to-use site that makes money from advertising. We have a modified experience for viewers using ad blockers

Wikia is not accessible if you've made further modifications. Remove the custom ad blocker rule(s) and the page will load as expected.