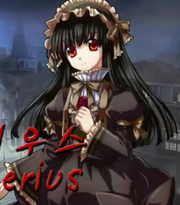 Leila Vergerius is the eighth character of Rusty Hearts and the second avatar of Frantz Kruger [1][2]. She is voiced by Kanae Itō in the Japanese version of the game.
Leila Vergerius, the young sibling of Roselle Vergerius, has been fighting to get out of the shadow of her protective sister. She hardly needs protection as she exhibits the same supernatural strength and affinity for dark magic as her sister Roselle. Leila is a gregarious and polite young lady whom the townsfolk have welcomed with open arms. If it wasn't for her aversion to sunlight and her ability to go head to head with Vlad's forces, she would fit right in with the older children of Bramunez.
References
Edit
Ad blocker interference detected!
Wikia is a free-to-use site that makes money from advertising. We have a modified experience for viewers using ad blockers

Wikia is not accessible if you've made further modifications. Remove the custom ad blocker rule(s) and the page will load as expected.