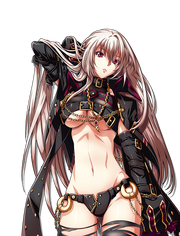 Roselle Vergerius (로젤 베르제리우스, Rosel Bereujeriuseu) is an Avatar of Frantz who was released on Valentine's Day, 2012 in coincide with the "Requiem" update on the North American server. She is voiced by Chiaki Takahashi in the Japanese version of the game.
Roselle has the exact same skill sets and weapons as Frantz and is available for purchase in the in-game cash shop.
Roselle arrived in Braumunez alongside her sister Leila Vergerius. A mysterious pair of runaways recently arrived in Bramunez. Roselle, the elder Vergerius sister, is quiet, but very protective of her younger sister, Leila. She has a vicious fighting style that she's not afraid to use to defend her sibling. The sisters shun the daylight and are thought to possess Vampiric blood, but the source of this is a secret known only to them.
External Links
Edit
Ad blocker interference detected!
Wikia is a free-to-use site that makes money from advertising. We have a modified experience for viewers using ad blockers

Wikia is not accessible if you've made further modifications. Remove the custom ad blocker rule(s) and the page will load as expected.