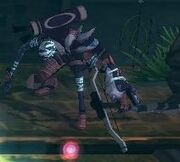 The Skeleton Archer can be found in every dungeon in the Subterranean Canals. They are in Canals B3 starting on Hard difficulty, and all of the other dungeons starting on easy. They are first ranged monsters to attack from the distance.
Monsters of Bramunez
Bone Collectors
Butchers
Gloves
Golems
Gorillas
Haken
Living Armor
Mages
Maids
Nomi Nomi
Skeletons
Undead
Ad blocker interference detected!
Wikia is a free-to-use site that makes money from advertising. We have a modified experience for viewers using ad blockers

Wikia is not accessible if you've made further modifications. Remove the custom ad blocker rule(s) and the page will load as expected.