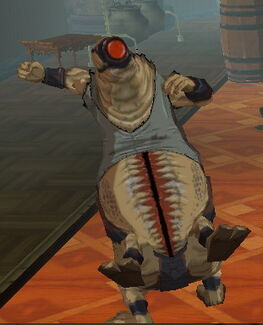 The Thing is the boss from Cafeteria 2F which later becomes a champion monster in the same said location, Labrinyth, Atrium etc. Wearing a one-eyed swimming goggle, a grey ripped shirt and having a vertically slit stomach, it's mind-baffling appearance truly does live up to it's name.
But apart from it's enigmatic constitution, the boss is equipped with some wild boxing moves, a blue laser-beam eye attack and finally, a widespread breath attack of firey green meatballs.
It's punching moves lasts between 2-3 times and will cause a knock-down effect to those who are caught within the attack.
It's laser-beam eye beam shoots in front of him and covers a short distance. May cause a petrified state if a player is hit by it's attack.
Lastly, it's widespread stomach acid spray attack covers an arc that's less than 180 degrees in front of him. Sweeping in left to right motion.
Monsters of Bramunez
Bone Collectors
Butchers
Gloves
Golems
Gorillas
Haken
Living Armor
Mages
Maids
Nomi Nomi
Skeletons
Undead
Ad blocker interference detected!
Wikia is a free-to-use site that makes money from advertising. We have a modified experience for viewers using ad blockers

Wikia is not accessible if you've made further modifications. Remove the custom ad blocker rule(s) and the page will load as expected.