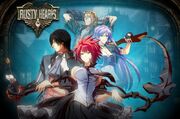 Rusty Hearts, published by Perfect World, is being released on Steam, according to Pete Davison of GamePro.com. Rusty Hearts is a free-to-play MMO that is being developed by a studio who closely listens to their fans.
When the game was still in closed beta, many fans complained about the stamina system limiting players on how much XP they could gain and how many quests they could do in a day. Since the reaction by players was so overwhelmingly negative, the developers have nixed the stamina system. How is this game going to make money then? Players now only pay for temporary boosts and cosmetic changes to the game. This means that you don't have to spend a dime to have a full game experience.
More information on the further developments of Rusty Hearts can be found over at GamePro.com. With this robust a game for virtually nothing, will you be jumping into the world of Rusty Hearts?
Ad blocker interference detected!
Wikia is a free-to-use site that makes money from advertising. We have a modified experience for viewers using ad blockers

Wikia is not accessible if you've made further modifications. Remove the custom ad blocker rule(s) and the page will load as expected.